About Rungu
Rungu history and background. Rungu is a brand under Standard Bearer Machines, LLC – A business based in San Clemente, California, USA.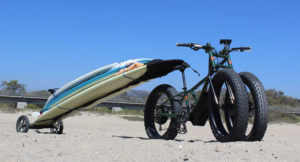 Genesis of the Rungu Electric Juggernaut
The Rungu Electric Juggernaut started out as a solution to a local problem, "how best to transport equipment across the beach to the ocean?"  In California, getting surf or fishing gear across the San Onofre State beach is a chore for surfers and fisherman.  4x4s aren't allowed on the beach, and nearest parking is two miles away. To get to the ocean, surfers can follow state park dirt roads by e-bike or cross the beach on foot.  E-bikes don't perform in the soft sand, and Quads aren't allowed within 50 miles of the beach.
Overcoming the drawbacks of e-bikes and Quads
Rungu developed the Electric Juggernaut to conquer soft sand.  Fat-tire e-bikes can follow a straight line on soft sand, but washout and crash as soon as riders try to turn. Fat-tire e-bike riders carrying gear find it's safer to push than ride.  Rungu solves the washout problem with its patented two-front-wheel design – when turning, one fat-tire wheel always stays on the inside of the turning radius to "dig-in" instead of washing out.  Advanced battery technology and high-power e-bike motors add power to overcome the resistance of soft sand.  Rungu Electric Juggernaut makes it easy to carry you and your gear over soft sand.
Electric Juggernaut also gets through mud and snow without compromising on-road performance.  Rungu's stability works in mud and snow for the same reasons over soft sand.  Unlike a Quad, Rungu also performs well on the road.  With the front wheels close together, riders find it as easy to bank a Rungu into a turn as a motorcycle.  Turning a corner at speed on a Rungu avoids highside crashes common to Quads on the road.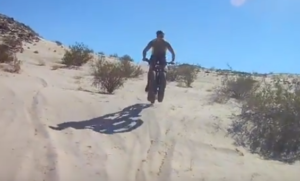 The true e-ATV
Rungu Electric Juggernaut covers the same terrain and distance as an e-Quad or e-UTV at 1/6th the weight.  Rungu does extensive testing on the impact of weight and terrain on Electric Juggernaut products.  Going off-road uses more power than going on-road, but customers report more than 30 miles per charge using both pedal and motor power.   Rungu Electric Juggernaut weighs between 80 and 110 lbs. Gas-powered Quads and UTVs get 30 to 40 miles per gallon but weigh more than 400 lbs.  To achieve 30 miles of range, electric versions of the same Quads and UTVs would have to add at least 250 lbs. of the latest Lithium Ion battery technology.  That's a single-person vehicle weighing a minimum 650 lbs. but only getting a range of 30 miles per charge.  Compared to less than 110 lbs. for an Electric Juggernaut, it's hard to argue in favor of an e-Quad or e-UTV.
Commitment to quality
Rungu builds Electric Juggernaut in Santa Ana, California.  We use the latest technologies and rigorous quality control to deliver the best e-ATV on the market. We evaluate each Rungu frame on three calibrated testing fixtures before acceptance.  Rungu frames then have two layers of powder coat applied (color and clear coat) to resist chipping, scratches and fading better than paint.  In assembly, technicians use lasers to align the front wheels to millimeter accuracy and automated battery testing to ensure capacity and discharge requirements.  Each Rungu must pass a 24-step final inspection and test ride by a quality technician before shipment to a customer or dealer.
The commitment to quality backs our 1-year warranty and 30-day refund policy. Rungu products are covered for any manufacturing defect for the entire system for one year from the date of delivery.   Many customers buy Rungu before ever trying one.  We're so sure that Rungu will delight you, that we offer money back if you decide to return Rungu within 30 days of delivery.
Make new tracks.  Ride Rungu!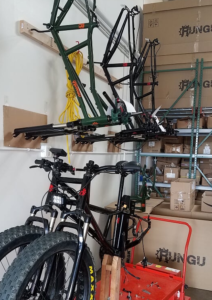 Important Links
Find Us
Our factory is located in Santa Ana, CA.  Visits arranged by appointment only